Commonly used wine-making and wine-tasting terms.
A
ACID/ACIDITY
An essential natural component of wine giving it freshness, zing and
bite
. Too little acid, and the wine tastes flabby and bland - too much acid and your taste buds cry for mercy. When acids are countered by other ingredients (
alcohol
,
sugars
, trace minerals, etc.), the wine is said to be "in
balance
" - the desired result. Acids are present in wine in many forms, but primary Tartaric acid, Malic acid and Citric acid.
ACID TITRATION
A simple and effective way to measure titratable acidity (T.A.) in wine utilizing an inexpensive titration or acid test kit. This is a process to determine the concentration of an unknown substance in a liquid (acid in must or wine) by adding a reagent (a base whose chemical concentration is known) until a change in color occurs due to the presence of an indicator.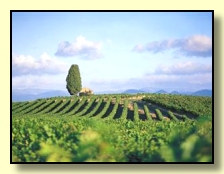 AGGRESSIVE
Describes a wine taste that is over-tannic or over-acidic.
ALCOHOL
The results of fermentation, created by yeasts working on the sugar in the juice. Sometimes added in neutral form during or after fermentation to make fortified wines.
ALCOHOL CONTENT
The level of alcohol in an alcoholic beverage. To determine that level, take the starting specific gravity, subtract the finished specific gravity and divide by 7.36. Example, 1070 - 985 = 85/7.36 = 11.55% alcohol by volume.
APÈRITIF WINES
Apèritifs come in both herbed and non-herbed styles. Meant to be consummed before a meal to stimulate the appetite.
AROMA (NOSE)
The distinguishing bouquets and aromas of wine. See "Nose".
AROMATIC
Distinct pleasant smell, often associated with grapes such as Gewürztraminer or Muscat.
ASCESCENCE
Term used to mark the presence of acetic acid and ethyl acetate. Indicated by a sweet and sour, sometimes vinegary smell and taste and a sharp taste in the mouth.
B
BACCHUS
The Latin name for the wine-god Dionysos, originally a pre-Greek deity. He is the patron deity of agriculture and the theatre, and known as the Liberator - freeing one from one's normal work-a-day world - usually through a state of ecstasy brought about by wine. His divine mission was to bring an end to care and worry.
MORE
...
BACKWARD
Describes a wine that is not as developed as it should be, retaining youthful characteristics despite considerable aging.
BALANCE
Fruitiness, acidity, alcohol and tannins (for reds) in pleasant harmony in the wine.
BALTHAZAR
Wine bottle size equal to 16 standard bottles.
BARREL-AGING
Maturing wine in new or newish oak casks.
BEAUJOLAIS NOUVEAU
A red wine made from Gamay grapes produced in France's Beaujolais region. The most popular vin de primeur, it is fermented for only a few weeks before being released on the third Thursday of November. There are often races to get the first bottles of the vintage to market on "Beaujolais Day" or "Beaujolais Nouveau Day".
BIG
Describes a mouth-filling, full-flavoured wine.
BITE
High acidity. Good in young wine.
BLENDING
The mixing of several wines or grapes to create a balanced cuvée. Note: The simple addition of red wine to white wine to add color is uncommon and illegal in Europe for quality still wines, although allowed somewhat for rosé, Champagnes and customary for "blush" wines.
BLUSH
In the 1970s white wine demand in California exceeded the availability of white wine grapes, so some producers made "white" wine from red grapes using a form of saignée production. The term (originally referring to the pale pink color) is generally used for sweet, pink wines sold in North America.
BODY
A full-bodied wine is one that fills the mouth with flavour.
BOTTLES
See: "Wine Bottles".
BOUQUET
Pleasing smell of the wine.
BREATHE
Exposing wine to air prior to serving, often during a decanting process. However, at a certain point air causes more damage than good. Wine can sit in the decanter for 1/2 to 1 hour before drinking. If you let the wine sit out too long, it could warm up too much (not good for flavour) and, as wine + air = vinegar, if exposed to air for over 8 hours, a vinegar taste may begin to overpower the good flavors. MORE...
BREED
Refers to wines from the best grape varieties and considered to have reached classical expectations of aroma, balance, structure and varietal character. The "noble grapes".
BRIARY
Describes a wine with an aggressive, prickly or "peppery" taste. Sometimes also referred to as "brawny" - a young red wine with high alcohol and tannin content.
C
CAPSULE
The covering to protect the cork and bottle neck. Once lead, sometimes wax (usually for vintage port), but now usually foil or plastic (applied in a process referred to as
shrink wrap
).
CARBON DIOXIDE
A by-product of fermentation. It is trapped in wine by sparkling wine-makers using the Champagne method or otherwise injected into all sparkling wines.
CARBOY
A carboy (sometimes referred to as "carbouy", "demijohn" or "jimmyjohn") is a rigid glass or plastic vessel with a typical capacity of 20 to 60 litres. In brewing, a carboy is used in fermenting beverages such as wine and beer, and is usually fitted with a rubber stopper and a fermentation lock to prevent bacteria and oxygen from entering during the fermentation process.
CARAMELIZED
A caramel smell. One of the basic aroma ("nose") terms of wines.
CHAMBRE
When the French coined the term "chambre" (room temperature), even the wealthiest lived in homes that were far less warm than what we are used to. "Room temperature" often meant a few degrees above the cellar from which the wine came (not what we would consider room temperature today).
CHAMPAGNE METHOD
The method used to trap carbon dioxide in the wine during a secondary fermentation within the bottle. See: Champagne Region
CHEMICAL
A smell suggesting paper (wet cardboard, filter pad), pungent (acetic acid, ethanol), ethyl acetate - sulfur dioxide. One of the basic aroma ("nose") terms of wines.
CLARET
The name used in English (primarily in Britain) for red wine from the Bordeaux region of France. People in America usually call it "red Bordeaux" or simply "Bordeaux". The French do not use the term, except for export purposes.
COLD STABILZATION
A process of removing some of the acid in wine through precipitation. After testing wine for acid content (acid titration), the wine is placed in near freezing temperatures. The acid will drop to the bottom of the container in the form of crystals. You then rack the wine, leaving the crystals behind.
COOKED WINES
Heat damaged wines usually due to improper storage. Bottles in storage should be cool to the touch. Such wines often become oxidized and red wines may turn to a brick colour. See Storage.
COOL
A cool aroma (menthol). One of the basic aroma ("nose") terms of wines.
CORK
Cork comes from the Cork Oak tree, with Portugal producing 50% of cork worldwide. It is an ideal material for use as a bottle stopper as its cellular structure allows it to be easily compressed and upon insertion into a bottle, it expands to form a tight seal. Since the mid-1990's, a number of wine brands have switched to alternative wine closures such as synthetic corks, plastic stoppers, aluminum screwcaps, or other closures. A recent study concluded that cork is the most environmentally responsible stopper when compared with such synthetic alternatives. See: Largest cork tree (see left column).
CORKED
A wine spoiled by a bad cork. It has a musty or mouldy smell and flavour.
CRISP
Wine that is fresh and lively, with good acidity.
CRUSH
The process of crushing or breaking the grape skins to release the juice prior to pressing.
CRYSTALIZATION
Although it may spoil the experience (they may be taken for chips of glass), this is not a serious matter. The most common are tartrate crystals (specifically potassium hydrogen tartrate), and these are often found on the underside of the cork or in free suspension. Chilling the wine brings the crystals out of solution so that they may be removed - decant your wine.
CUVÉE
A special blend.
D
DECANT
Decanting both lets the wine "breathe" and separates the wine from
sediment
. This usually applies to older, red wines - young wines and white wines usually do not have to be decanted. A delicate form or
racking
.
MORE
...
DEMIJOHN
See: carboy.
DEPTH
A wine with depth is one that fills the mouth with lingering flavour.
DESSERT WINES
Sweet, luscious and sometimes almost overly sweet wines are meant to be consummed after diner with desserts. They are best appreciated with the appropriate and proper foods. Best enjoyed in moderation.
DOUBLE MAGNUM
Wine bottle size equal to 4 standard bottles or 3 Liters. Also see MAGNUM
DRY
Having little or no obvious sweetness.
DUMB
Describes a young wine with yet-to-develop aromas and flavours. The wine seems "unable to speak".
E
EARTHY
An earthy (alcohol, earthy moldy). Earthy wines are usually grown along a coastline. One of the basic aroma ("
nose
") terms of wines.
F
FAT
Describes mouth-filling wines.
FERMENTATION
Conversion of sugar to alcohol resulting from the action of yeasts.
FIASCO
A typical Italian style of bottle, usually with a round body and bottom, partly or completely covered with a straw basket. Often used for wines from the Chianti region.
FILTRATION
Passing the wine through a filter to remove solids and bacteria. Too much filtering may also remove flavour, and some producers prefer not to filter.
FINESSE
An understated or "classy" wine.
FINING
Clearing wine or beer of cloudiness.
FINISH
how the flavour of a wine ends in the mouth.
FLORAL
An aroma reminiscent of flowers (geranium, linalool, orange blossom, rose, violet). One of the basic aroma ("nose") terms of wines.
FORTIFICATION
The addition of neutral alcohol to wines (such as sherry or port) during or after fermentation.
FORTIFIED WINES
Wines that have been fortified. These include ports, sherries, madeira wines and liqueurs.
FRUITY
An aroma reminiscent of fruits (berry - blackberry, black current, raspberry, strawberry). One of the basic aroma ("nose") terms of wines.
FRUIT TREE
An aroma reminiscent of tree fruits (apricot, apple, cherry, peach). One of the basic aroma ("nose") terms of wines.
FRUIT TROPICAL
An aroma reminiscent of tropical fruits (banana, melon, pineapple). One of the basic aroma ("nose") terms of wines.
G
GRAPES
It is estimated that there are over 510 grape varieties. Roughly speaking, the relationship of grapes and vines to production is: 75 grapes = 1 cluster; 1 grape cluster = 1 glass; 4 clusters = 1 bottle; 40 clusters = 1 vine; 1 vine = 10 bottles; 1200 clusters = 1 barrel; 1 barrel = 60 gallons; 60 gallons = 25 cases; 30 vines = 1 barrel; 400 vines = 1 acre; 1 acre = 5 tons; 5 tons = 332 cases.
H
HALF BOTTLE
Wine bottle size
equal to 1/2 of the standard bottle or .375 ml. About 2 glasses of wine.
HOT
A wine high in alcohol which gives a prickly or burning sensation on the palate. Generally accepted in fortified wines, but not considered desirable in wines such as Cabernet Sauvignon or Chardonnay. Undesirable in light, fruity wines such as Riesling).
HYDROMETER
A weighted, calibrated, glass float used to indicate the specific gravity of wine or beer.
I
IMPERIAL
Wine bottle size
designation used in the Champagne and Burgundy regions of France and equal to 8 standard bottles. Also called "Methuselah" in other areas.
J
JEROBOAM
Wine bottle size equal to 4 standard bottles.
JIMMYJOHN
See: carboy.
K
L
LEES
Dead yeasts or grape skins left after
fermentation
. Usually removed by a process of
racking
or filtering.
LEGS
The "tears" that run down the side of a glass after swirling - evidence of alcohol in the wine. See "Tears".
M
MACERATION
A winemaking process where components of the grape (
tannins
, coloring agents and flavor compounds) are leached from the grape skins, seeds and stems into the
must
. This is the main process by which the red wine receives its color. For
Rosé
, red wine grapes are allowed limited maceration, and in the production of white wines, maceration is either avoided or very limited.
MADEIRA
Generic name given to wines which are heated prior to maturation, which causes caramelization of the residual sugars.
MAGNUM
Wine bottle size equal to 2 standard bottles, 1-1/2 liters or 12 glasses of wine. Also see DOUBLE MAGNUM.
MALOLACTIC FERMENTATION (MALOLACTIC CONVERSION)
A winemaking process where tart-tasting malic acid that is naturally present in grape must, is converted to softer-tasting lactic acid, creating a rounder or fuller mouthfeel. Malic acid ("mãlum" is the Latin word for apple) has a taste like green apples, and it is present in apple juice. Lactic acid ("lac" is the Latin word for milk) is richer or buttery tasting and is present in milk. This conversion is used in many red wines and some white wines, particularly those that are aged in oak.
METHUSELAH
Wine bottle size equal to 8 standard bottles. Also called "Imperial" in Champagne and Burgundy regions of France.
MICROBIOLOGICAL
An aroma suggesting bunyic acid, lactic acid, sauekraut, or sweet. One of the basic aroma ("nose") terms of wines.
MOULDY
Smelly wine resulting from rotton grapes, poor wine-making or a bad cork.
MUST
(From the Latin vinum mustum, "young wine".) Freshly pressed grape juice that contains the skins, seeds, and stems of the fruit. Making must is the first step in wine-making, and that is what will be fermented.
N
NEAR WINES
Strictly speaking, wines are made from grapes. However, several types of fruits, berries and certain flowers can be fermented to produce beverages with wine-like characteristics. Sometimes blended with wine or grape juice.
NEBUCHADNEZZAR
Wine bottle size equal to 16-20 standard bottles, depending on the country or origin.
NOSE (AROMA)
Each wine has it's own distinguishing bouquets and aromas. Light wines such as Pinot Noir (red) or a Chenin Blanc (white) should be served in a glass with a more closed or narrow opening to keep the aromas in the glass so that the "nose" may be fully enjoyed.
Basic aromas: Caramelized, Chemical, Cool, Earthy, Floral, Fruity, Fruity Tree, Fruity Tropical, Microbiological, Nutty, Pungent, Spicy, Vegetable, Woody.
NOUVEAU
See vin de primeur and Beaujolais nouveau.
NUTTY
An aroma reminiscent of nuts. One of the basic aroma ("nose") terms of wines.
O
OAK
The preferred type of wood for
barrels
in which to mature wine. It adds character and flavour, and is sometimes added to wine in chip form. Of about 400 species of oak, only about 20 are used in making oak barrels, and only about 5% of those are suitable for making high grade wine barrels.
OXIDATION/OXIDIZED
The result of air coming into contact with the wine. Controlled in the wine's maturation process, but too much can destroy the wine. If a table wine smells and looks like sherry, it's probably oxidized. Red wines turn brownish, whites turn deep yellow.
P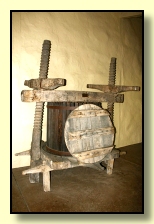 PALATE
Both the flavour and what you taste it with.
PORT
A fortified (and usually blended) wine from Portugal. Before the fermentation process is completed, the yeast is inhibited by adding brandy so that is remains a sweet wine. It requires a long maturation period and careful handling.
PRESS
The process of extracting juice from the crushed grapes or fruit. See wine press.
PUNGENT
A cool aroma. One of the basic aroma ("nose") terms of wines.
Q
R
RACKING
Decanting from one container to another to leave the
lees
or other sediment behind.
RED TABLE WINE
These wines form the foundation of the wine industry. Complex full-bodied bordeax style wines are known for their rich flavours and aroma, the newer Shiraz and Shiraz blends challenge the best of old world styles, and Italy has the robust chanti style wines.
REFERMENTATION
Caused by yeasts refermenting residual sugar within bottled wine - usually unintentional and undesired. However, "vinhos verdes" relies on this additional fermentation in the bottle to impart a spritziness to the wine, and Champagne and sparkling wines are the result of a secondary fermentation.
REHOBOAM
Wine bottle size equal to 6 standard bottles.
ROBUST
Solid, full-bodied wine.
ROSÉ
(From French: rosé, "pinkish".) Wine that has some of the color of a red wine, but only enough to turn it pink. The pink color can vary, depending on the grapes and wine making techniques. The classic way to make rosé wines is to follow the red wine process but rack off the wine after limited contact with the black skins and before fermentation is complete. The wine is then delicately colored. Other methods are saignée (bleeding) or blending (uncommon). See: 3 Ways to Produce Rosé Wines.
S
SAIGNÉE
If a winemaker's objective is to impart more tannin and color to a red wine, some pink juice can be removed from the
must
at an early stage ("bleeding the vat"). The volume of juice in the must is less, the must involved in the
maceration
is concentrated, and the red wine is intensified. The removed juice can then be fermented separately, producing a
rosé
as a by-product.
SALMANAZAR
Wine bottle size equal to 16 standard bottles.
SEDIMENT
Very small particles of organic matter like yeast, grape skins and tannins that settle out of the wine after it is bottled, particularly if wines are not excessively filtered (which can remove flavor). This is a normal and expected occurance, and older red wines, which have more skin contact, usually have more sediment. Sediment does not harm the wine or the taste, but it is unpleasant in the glass, so it is best to decant your wine.
SHRINK WRAP
The process of applying a plastic capsule to the bottle top, then heating it to cause it to shrink tightly around the bottle.
SILKY
exceptionally smooth wine.
SOIL
Soil is vitally important to the quality of the grapes. The soil of a famous French vineyard is considered so precious that workers are required to scrape it from their shoes before they leave the vineyard.
SOVEREIGN
The largest Wine bottle size equal to 34 standard bottles.
SPICY
A spicy aroma suggesting black pepper, cloves or licorice. One of the basic aroma ("nose") terms of wines.
SPLIT
Wine bottle size of .187 ml (or 1/4 of a standard bottle). Usually only made for sparkling wine.
STRUCTURE
The wine has all of its elements in harmony.
SUGAR
The amount of sugar in grape juice will determine the alcohol content and style of wine.
SULPHIDE
When sulphur dioxide, used to protect the wine from oxidation, bonds with hydrogen and creates hydrogen sulphide. When the wine is opened there will be an aroma of sulphur or rotten eggs. If you let the wine breathe for 10-15 minutes, the smell often dissipates leaving the wine drinkable.
SULPHITE (Also: Sulfite)
A natural bacteria inhibitor. A small amount of sulphite in your wine will discourage bacteria that could ruin it, help prevent oxidation, arrest fermentation at a desired time, and act as a preservative. As some people are allergic to sulphite, in the USA, wines must now have a label stating that they contain sulfites if they contain more than 10 parts per million.
T
TABLE WINES
Wines that are enjoyed either with food or as a beverage in their own right, served both to accompany full meals or h'ord oeuvres and finger foods.
TANNINS
The mouth-puckering quality of red wine - which softens with age - caused by extracts from red grape skins that give red wine "backbone".
TEARS
Liquid rivulets that form on the inside of a wine glass after the wine is swirled in order to evaluate the alcohol concentration. Usually the higher the alcohol content, the more prominent and impressive the rivulets appear because of reduced surface tension effects. (Some incorrectly believe that glycerin content causes the rivulets). Also known as "legs".
U
V
VANILLIN
A component contributed by oak aging. It can add a degree of "sweetness" to red wines when present in very small amounts.
VEGETABLE
An aroma of canned or cooked vegetables (artichoke, asparagus, green beans, black olive, green olive). One of the basic aroma ("nose") terms of wines.
VIN DE PRIMEUR
A nouveau (new) French wine permitted to be sold in the same year it was harvested. The most popular is Beaujolais nouveau.
VINHOS VERDE
A Portuguese wine from the Minho region. The name means "Green Wine" which refers to its youthful freshness (not the color). They are light, fresh wines, intended for drinking within a year. Although they do not qualify as semi-sparkling wines, they often have a spritziness due to slight secondary fermentation.
W
WHITE TABLE WINE
The more delicate floral characteristics and crispness of "white" wines often make them an ideal to accompany lighter meats like seafood and poultry.
WINE BOTTLES
The containers that wine is bottled in, of course. The standard size is 750 ml, but there are many "wine bottle sizes" (see left column). Wine bottles attained their present and conventional shape in the late 17th century when cork began being used to close the bottle. Bottles were then lain down for aging (to keep the cork from drying out), and their shape changed from short and bulbous to tall and slender. The indentation in the bottom of a wine bottle is to strengthen the bottle structure.
WINE GLASSES
See: "Wine Glasses" in our section on serving wine.
WINE LABELS
Wine label information (for wines sold) should contain: brand name, class or type, alcohol content, volume of contents, name of country, producer identity, bottler identity, importer name, shipper name, sulfite advisory and government warning.
WINE PRESS
A device used to extract juice from grapes during wine making. The press exerts pressure to free and squeeze the juice from the fruit (usually grapes). The pressure must be controlled to avoid crushing the seeds (particularly with grapes) which may release an undesirable quantity of tannins into the must.
WOODY
A woody aroma (phenolic, vanilla). One of the basic aroma ("nose") terms of wines.
X
Y
YEAST
Naturally present on grapes, but it is usually added to the
must
in cultured form. It makes the grape juice ferment.
Z

Back to Top